A unique and well thought out program for training working dogs within SLCG. Since its concept, the working dog programs founder LT Nick Munsch along with his faithful company and model working dog Chips, started the training program in Nov 2020.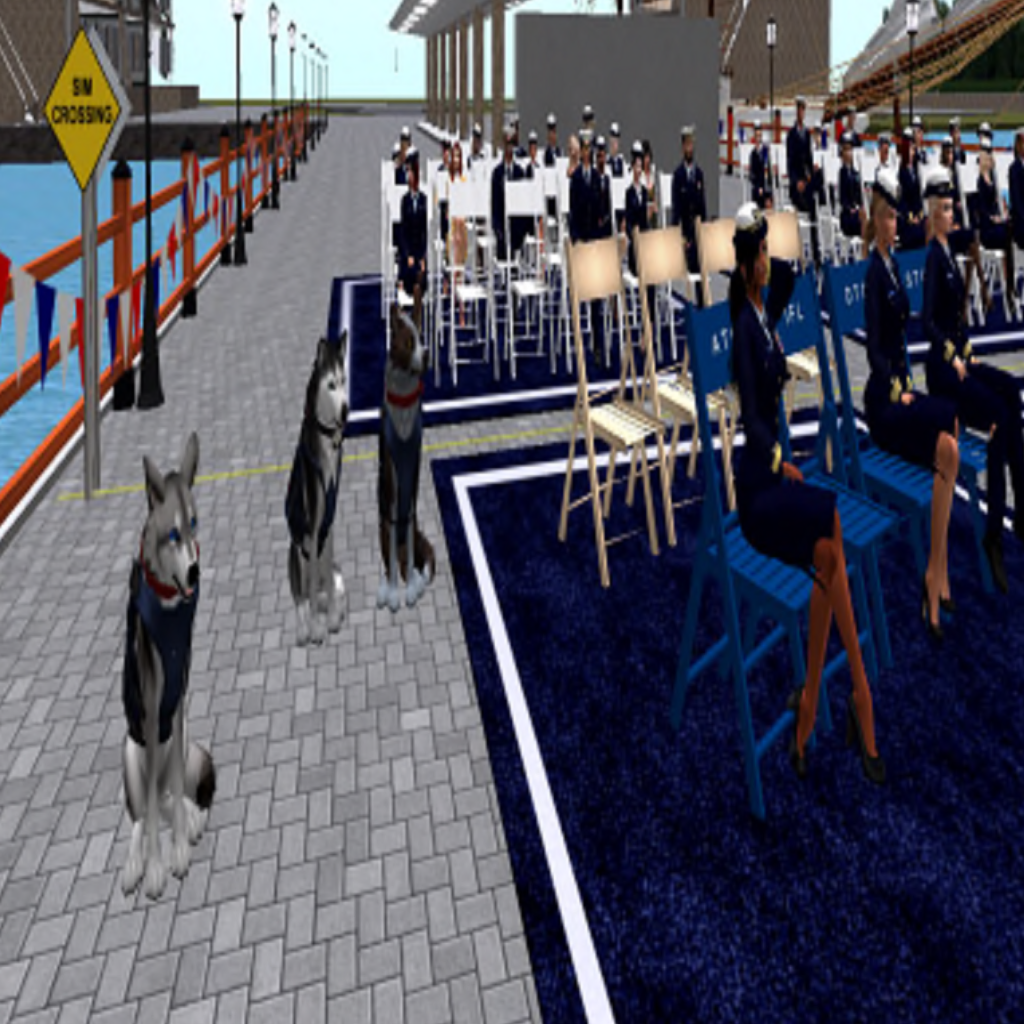 LT Munsch and Chips have been together 4 years, Chips earning his name affectionately from the Disney Movie ' Chips, The War Dog'. Chips is the quintessential 'Role' model of the working dog program and it is with LT Munsch and Chips mutual bond and loyalty that helped shaped this training program. LT Munsch is the Head Trainer of this program and explained to me that he has a well established reputation with years of experience in dog training, dog boarding and dog care in general and while he took me on a tour of the facilities we chatted about the program in more detail.
Reporter -LT Munsch, is the course available to any breed of dog?
LT Munsch – the training offered is compatible for any dog and that all working dog recruits and handlers are paired precisely to ensure a good working relationship between dog and handler. Since the benefits of having working dogs in SLCG is significant, their training and the training of the handler must be a thorough process.
Reporter – What are the training requirements?
LT Munsch – All dogs and handlers must pass the basic training course. The course starts with learning commands, followed by a more comprehensive training regiment including obstacle course training. The handler works with their dog through every process to establish a mutual relationship with their dog. As soon as handler and dog pass the course, the dog will be assigned to the station with the assigned dog handler as K-9 search and rescue dog.
Reporter– What benefits are there in having working dogs in SLCG?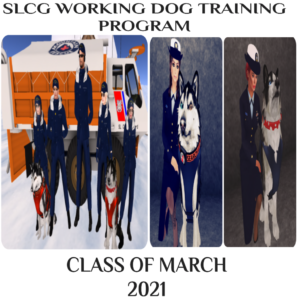 LT Munsch – Working dogs have better sensory inputs, sight ,smell ,hearing etc.The dogs are therefore well placed to be trained to respond consistently in emergency situations and are also used in patrols with their handler.
Reporter– How do you choose handlers and what is their duty of care towards the dogs?
LT Munsch – The very first thing I look for in a potential handler is – they must LOVE dogs! A handler must also provide daily care, grooming and feeding, as well as ongoing training support for their working dog. All ranks are accepted from PO3 to Admirals. Our very own Commandant has become a handler.
Reporter – I understand that care and grooming, feeding and exercise are all very important for the dog, but what about if more substantial care is needed?
LT Munsch – We have very good outsourced vet care available to us but all the handlers learn basic first aid for their dog in case they get injured.
Reporter – What inspired you to create this program?
LT Munsch – Working dogs have a great history in Military deployments past and present . I am very passionate about dogs and dog training, I saw a need for specially trained dogs in SLCG with Chips as my inspiration.
Reporter – LT Munsch, you have been in SLCG for 2 years but have know Chips for 4 years , how did you meet?
LT Munsch – A friend ask me if I wanted a dog and I said yes so he become our family dog then.
Reporter – Now Chips is recognized as a member of SLCG, does that mean all fully trained dogs will be?
LT Munsch – Yes after they go though basic training they will be a member of the SLCG. Then will be allowed to go on patrol with their handler and do SAR drills.
While sat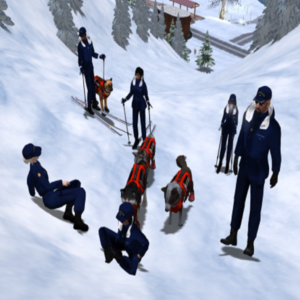 isfied with the interview and story line I had written, I still wanted to see it for myself. So I took it upon myself to learn more about this marvelous program and stood off to the side while I watched the dogs going through their training. I noticed lots of treats, lots of praises…… the dogs were loving it! And the handlers all seemed dedicated and focused, working side by side with their dog, their attention solely on forging a bond with their dog.Every dog loved the bath afterwards and there were barks and howls joy when being rubbed dry and let to run, the dogs played together happily.
Meeting Chips was a great treat for me and his big soulful eyes and commanding presence made me feel like he was almost human. I couldn't resist trying a few questions to see what a response I would get, I wasn't disappointed. Bending down and lightly stroking his head, I asked…
Reporter – Hey chips, do you find the training hard?
Moving his head to one side and staring into my eyes, he slowly closed his eyes and nuzzled my hand. He seemed very at ease and not at all stressed or overworked so I tried another question…
Reporter – Chips, LT Munsch here says you are spoiled, is that true?
Barking loudly, he proceeds to roll over onto his back, wiggling his back against the ground and whining softly. From my previous talk with Lt Munsch I had been told that Chips, while being a loyal and faithful companion AND a working dog lived at home with the family and that the training had forged their bond and made them even closer. Scratching his belly lightly and speaking softly I asked…
Reporter – Awww chips, you work hard and help all the other dogs in the program too don't you?
Chips rolled over into a sitting position and barked a few times, offering me his paw to shake.
Reporter – I think we need more treats and better treats for the dogs huh?
Chips barked again chips was up on four legs and wiggly his rear end in a profuse display of playfulness.
I couldn't help but smile at such a display so I dug into my coat pocket and offered Chips a treat. Chips barked once, as a thank you and laid down to munch on his treat. I ruffled his head and watched him eagerly enjoy his treat. I got such a feeling of connection to him, his intelligence, his abilities, his presence. This is the life of a working dog, they are committed, loyal, trustworthy, dependable and have forged such strong bonds to their handlers that the working part doesn't seem to be work to them at all, its a natural extension of their commitment and dedication.
My thanks to LT Munsch and to Chips for allowing me to observe the Working Dog program and for allowing me the time to talk to them. I stepped away from this with a better understanding of how important this program is, how dedicated the handlers and dogs were to its success and have no doubt it will continue to be a significant part of SLCG. I'm sure all our readers will enjoy this article and will be quickly signing up to such a worthy program.
LTJG Yalene Hansen