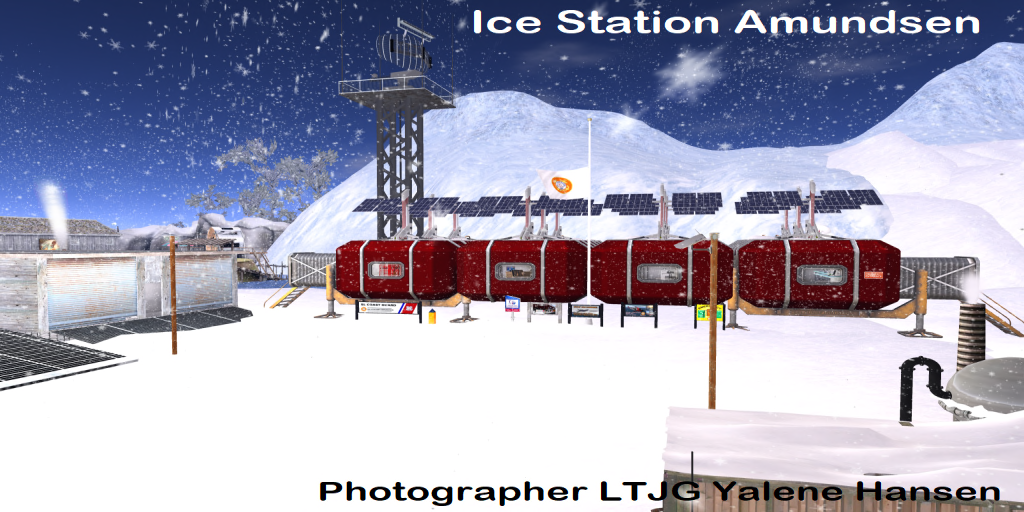 Reporter – Whats the story behind the name Admundsen?
MCPO Bo Juisser – Well, the ice station has actually been here for a while, but never really developed. When interest started showing it's head, at a point, they wanted to name it. The Commandant had a poll set up, and the majority won 🙂 So all of SLCG was involved in giving the name.
( Roald Engelbregt Gravning Amundsen was a Norwegian explorer of polar regions. He was a key figure of the period known as the Heroic Age of Antarctic Exploration.)
Reporter – Is the station still in development?
MCPO Bo Juisser – Yes. But, it is very close to being finished. Mostly just tweaking things now. Then comes the hard part.. Planning on how we actually use it. There are SO many role play things that can be done here, that could include all the TRACENS 🙂
Reporter – Oh that's interesting – are you able to share a few of the role play activities that might be included?
MCPO Bo Juisser – Of course. There is actually a team of members, who's tasks are research for the different role play options. Mine is supplying the station. So even now, we can do supply runs with helicopter, vertical replenishment similar to what we do on deployments. But we now have other methods of supplying it also, like the new vehicle 'Stalwart'.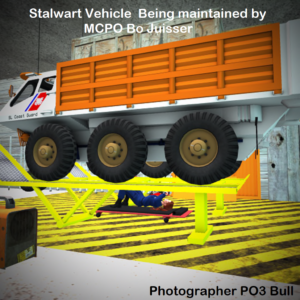 Reporter – 'Stalwart', for those that are unfamiliar with this vehicle, can you please explain what it is?
MCPO Bo Juisser – Sure 🙂 It is a 6×6 vehicle (modeled after the real life one designed in WWII.) It is amphibious, and designed specifically for getting supplies to their destination. Nicknamed "Stolly".
Reporter – So definately not a regular station vehicle.
MCPO Bo Juisser – Correct. It was approved for use for snow country, but as of yet, I don't believe for other locations yet.
Reporter – Since we are in the area of 'Non" regular equipment, can you tell me what sort of resources are here, that may differ from regular SLCG stations?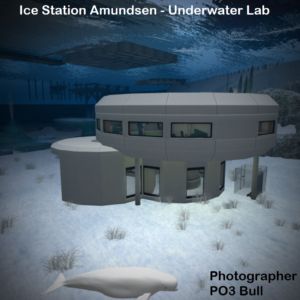 MCPO Bo Juisser – Yes. Since this is quite different from regular SLCG stations, we have to think of the stations mission. ..environmental observation. And since it's location is quite different, and hard to get to, special equipment (as is this style of station house) and vehicles that could support that. Most research is/was done along the lines of "real life arctic service". Everything needs consideration in sub-zero weather. For the environment studies, we wanted a way to include underwater. We have a mini sub hut outside here, and also an underwater lab (U-Lab), for divers and crew to carry out things like animal tracking and study.. water testing, watching ice flows and such. Only designed to be like a 'day-trip' sort of thing, so minimal things inside. You can dive down, or take the mini sub.
Reporter – Will this be a fully manned station?
MCPO Bo Juisser – I do not believe so. This is where I think it stands at the moment. Only a CO billet, and the crew will be volunteer, similar to Munro. So members would also have their assigned station.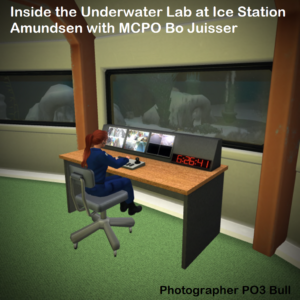 Reporter – Oh I see. So if any of our readers want to be involved or participate in activities here, what should they do?
MCPO Bo Juisser – They can contact me. I have gotten the go-ahead to begin training. With new vehicles, and out-buildings.. there is much to learn about the station area first. I do recommend them informing their CoC and perhaps do things here as one of their station events.
Reporter – I believe the working K9's will be used here as well, is that right?
MCPO Bo Juisser – Yes. There was a discussion about kennels here at one time. The overwhelming answer was "No, they will stay inside with us". And thus.. like the pad in front of the woodburner here. 🙂
Reporter – Considering the area, that's a very good idea. It sounds like a great opportunity for all crew to get involved.
MCPO Bo Juisser – Yes! There is supply runs, vehicle maintenance, underwater exploration.. everything we could think of for environmental studies.
Reporter – You mentioned environment conservation previously, so that will be part of the basic training here, as well as survival in cold conditions?
MCPO Bo Juisser – Yes. That is part of the teams mission, is to research what sort of things are done for "a station's research". What does a real arctic station do.. well, besides survive.
Reporter – I do appreciate you taking the time to talk to me today, is there any statement you wish to offer our readers about the Ice station? A last thought? Something I haven't covered?
MCPO Bo Juisser – Well, just my take on the whole thing 🙂 As CO of Station Kania, I have a personal attachment to snow country. I looked at our assets then, with the station, and two substations. I wanted to see more use of snow country. Now we still have those, plus this ice station, and a rescue station, and the Expedition program training. This area has always been a hard area to patrol. I wanted to see SLCG more active here. 🙂 If anyone ever wants a tour, of the MANY things we have here, please ask.
Reporter – Thank you very much Master Chief, I have enjoyed talking to you and learning about this great station and the opportunities it presents to all the crew of SLCG .
MCPO Bo Juisser – You are quite welcome!. Thank you for the opportunity 🙂
*Interview with MCPO Bo Jussier, acting CO of Ice Station Admundsen.*
Reporter – LTJG Yalene Hansen
Photographers – PO3 Bull, LTJG Yalene Hansen