Used as mobile naval bases, as they allow the deployment of boats and helicopters, these ships can carry the entire crew of an SLCG station.
However, today we will not talk about the technical characteristics and other benefits of these Cutters. Today we will talk about the people who name the SLCG RFCs.
Assigned at the rate of one FRC per station, the SLCG can deploy 12 of these mobile bases, speaking of twelve names today, would make this article very lengthy, so today I will only touch only 2 of them.
SLCG Douglas Munro – Station Abbotts Field
SLCG Kelly Mogk Larson – Station Craberry
Douglas Munro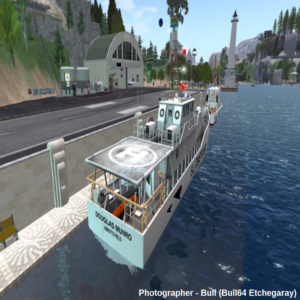 Douglas Munro was born to James and Edith in October 1919, in Vancouver, British Columbia, Canada. When Munro was just two years old, his family moved to Washington, eventually settling the small town of Cle Elum. On September 18 1939, Munro officially enlisted as an apprentice seaman.
In September 21, the Coast Guard cutter USCGC Spencer (WPG-36) arrived. In June 1941, Munro got orders to report aboard a transport ship, USS Hunter Liggett (AP-27). In July 1942, Munro was transferred to USS McCawley (APA-10).
On August 7, 1942, American forces landed on Guadalcanal, Tulagi, and the Florida Islands in the Solomon Islands. From McCawley, Munro landed Marines in the third wave to land on Tulagi. After several trips to finish landing Marines from his transport, Munro grabbed his signalman's gear, including a blinker light and semaphore flags, and took up station on the beach, ready to communicate between Marines ashore and the ships out to sea. Munro spent the night on the island with Marines, continuing to send messages via blinker light overnight. The next day he evacuated casualties, returning them to McCawley. On September 27, a message from the group was either misinterpreted or ambiguous, leading division headquarters to believe they had crossed the river and were fighting there. Munro was put in charge of the Higgins boats assigned to land the Marines. At 12:30 p.m., the boats were away, headed towards the shore. A thousand yards out, Munro noticed a reef, and led the small fleet of landing craft around it, putting the Marines ashore about 100 yards off their target. The Higgins boats beached, deposited the men, and returned to Lunga Point. The boat crews were still refueling the landing craft when word came down that the Marines they had just landed needed to be pulled out immediately. Munro leading the way, the boat crews sped back to the beach to extract the overwhelmed Marines.
Arriving at the rendezvous spot, the boats quickly came under withering fire from the beach. One coxswain yelled to Munro to fall back, that rescue wasn't possible, but Munro refused to leave the Marines. Positioning his landing craft parallel to the shore so Evans (a Munro´s Friend) could provide covering fire for the Marines. As the last Marines loaded into landing craft, Munro turned his boat to lead the group back to Lunga Point. Noticing a landing craft stuck on the reef, Munro pulled alongside it, where Marines tied a tow rope to it. After several minutes, and still under fire, the landing craft was free, and Munro pulled behind it. Evans watched as a bullet struck the base of Munro's skull and he fell to the deck. Evans grabbed the wheel and sped back to Lunga Point. Beaching the boat, he jumped down to Munro, who had just regained consciousness. Munro asked Evans, "Did they get off?" Evans replied the Marines had, and Munro died. Signalman First Class Douglas Albert Munro was 22.
Kelly Mogk Larson
Kelly Larson, born Kelly Mogk, grew up in Seattle, Washington and enlisted in the Coast Guard in August 1984.
In 1986 she attended the Aviation Survivalman (ASM) "A" School and became the first female to complete the Navy's Rescue Swimmer (RS) School on May 23, 1986 to become the first female ASM/RS in the Coast Guard. Kelly's first aviation duty assignment was at Air Station Astoria, Oregon. During her three-year tour at Air Station Astoria, she qualified as a Rescue Swimmer in both the HH-3 and HH-52 helicopters.
One of Kelly's most memorable rescues occurred in January 1989 when she exposed herself to hypothermic elements to free a downed Air National Guard F-4 pilot from his parachute and remained in the water for a back-up helicopter to recover her from the water while the first helicopter departed in order to expedite transport of the pilot to medical care. She earned an Air Medal and an in-person congratulations from then President George H. W. Bush for her heroic actions.
On December 21, 2009, Larson was presented with her letter of retirement by Capt. Anne Ewalt and Capt. Salvatore Palmeri. Before retiring from active duty in 2010 as a Lieutenant Commander, Kelly served as the Coast Guard District Thirteen Command Center Chief. During that same year she also got married changing her maiden name Mogk to Larson.
LTJG Teobold Rott
SLCG – 1378