NEW PO3s
– Zekale (Honors Graduate) – assigned to Farcastle – SLCG-534
– GamersBravo – assigned to Promethium – SLCG-536
– Christy Linch – assigned to Danshire – SLCG-535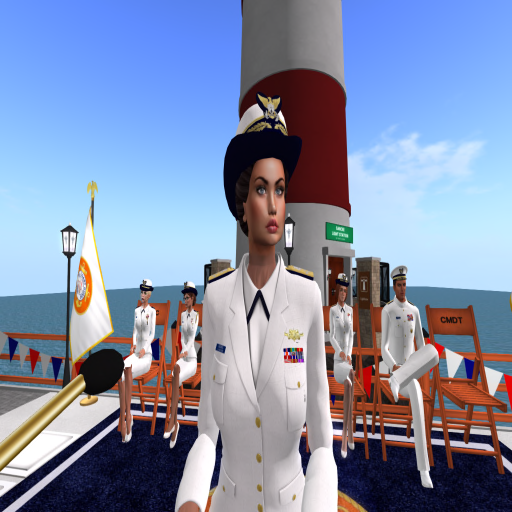 Commandant's Speech:
"Congratulations PO3s. I wanted to come up here today to give you a bit of encouragement. Gamer and Zekale, I was a challenged SR. I was more wet than dry and had no clue about navigation. I would send in lost items that belonged to Linden Labs, and I felt so out of place. I had no friends, none. I had one mentor, Captain Thorn Blackflag, who tp'd me to Station Anton (the creepiest place in SLCG) that he said he loved. He put me on a pose stand, told me to lose my breasts, lose my hair, and to get rid of all my gestures. I was training to be an officer. He said "don't ever let your hair touch your collar," and to always dress conservatively, both on and off duty. Gentlemen, it was great advice. Captain Blackflag said that he would chase me behind all the way to Officer Corps, and definitely would never let me give up. His message: "So shut up and learn!" I didn't like him. He was pretty mean I thought, and he always (excuse my expression) "busted my ass."
I failed a LOT, but I learned a LOT. I couldn't fly, and let's not even talk about my water patrols. But I got better, and I learned. With God's grace, I found officers that loved helping failures because, you see, failures are your best bet. They know all the pitfalls. You see Admiral Wroth smiling back there, he knows I speak the truth. He is one of those that helped me. I learned at Anton too, he gave me great advice. "There are going to be some downs, and there are going to be some ups.
Today I am called by ranks that I could only have imagined, and my failures are what keeps me well because I know that despite it all I am doing my best for this whole group. So, don't be afraid to fail. When someone comes alongside you, helps pick you up, invests in you, and believes in you… don't let them go. Your turn will come to shine. My very best blessings to our new PO3s; may you be with us for a long time. I will salute you one day when you become an officer. Thank you for your time. "
NEW PO2s
– Mack Hansom
– Krystal Walker
– Sylvia Caproni
– Kate Crest
– Thorn
NEW PO1s
– Aurora Philbin
– Sami
NEW CPOs
– Samuel Tubbs
– Mansoor50
– Draka Darkwatch Monti
– Aros Korobase
NEW SCPOs
– Shadow McConach-Uzton
– Sandra
– Eddie Bandit Hoffmann
NEW MCPOs
– TinaMarie Melodie
– Meiga Flor Langdon
NEW CMCPOs
– SmokieJade
NEW LTJGs
– Deej Kasshiki
NEW LTs
– Letizia Faulkes
NEW LCDRs
– Jess
– Casey Semyorka
NEW CDRs
– Luckie Howlett