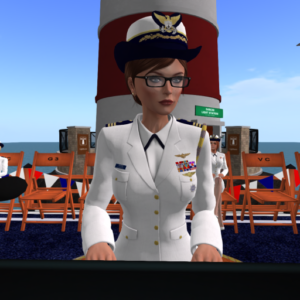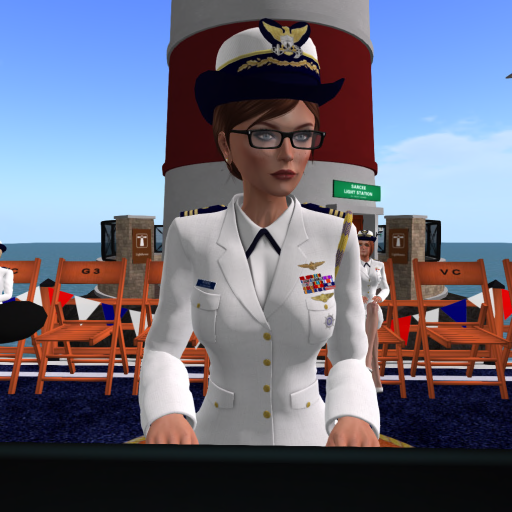 The September 2020 TRACEN Awards, held on October 3, 2020, were well attended. On a clear and sunny day New Horizons numerous Coasties were recognized for their hard efforts this past month. While we missed the Commandant, we persevered and a good time was had by all.
Good afternoon to fellow Guardians and Honored Guests. My name is CDR Julia Raymond, and I would like to welcome you all to the SLCG Tracen awards for the month of September. The Commandant is temporarily detained, so we will begin. 🙂 All month long, we train, learn and grow along with our fellow coasties. Our training centers are simply the best of any group in SL, and our Tracen Commanders exemplify the SLCG's commitment to training excellence. We are constantly refining, and adding to our repertoire of skills and learning opportunities for our members. Today, it our honor to present awards to the crew members who have shown outstanding achievement in training throughout the past month. I'd also like to encourage last week's new Petty Officers to begin their SLCG Training. Please get together with your CO's, XO's, mentors, Tracen Commanders, and myself and ask us how to start.
Soon we will also have information handouts in the form of TRACEN posters at each station and SLCG center that will give updated information to those interested. These will have individual discipline information, including who to contact, and how to apply. Stay tuned!
I would ask that all Guardians receiving awards today please stand at their seats to be recognized when their names are called. Also, I will get all ribbons, badges, certificates and donuts out to recipients after today's ceremony, if not by the end of the day Sunday. Please let me know if you do not receive them by the end of Sunday.
SLCG Achievement (presented by RDML Mandy Carthage-Leeks):
• Lisle Larsson
• Jess Razor
• Julia Raymond
• Maddie Haricot
Meritorious Unit Ribbon (presented by RDML Mandy Carthage-Leeks):
• Adili Roge
• Shadow McConach
Aviation Training Center Awards (presented RDML Ansaja Guardian)
FSC Cadets
• Suna Sunato
• Christy Lynch
• GamersBravo
• Tina Marie Melodie
Flight Wings
• Lousntak
• Aurora Philbin
Joint Patrols
• Willow Hamilton
Master Aviators
• Willow Hamilton
Boat Training Center Awards (presented by CPO Aldae Nagy)
Boat Force Badge - Level One
• Deivison.
• Draka Darkwatch
Boat Force Badge - Level Two
• Gokyu Ugajin
• Andy
Search and Rescue Awards (presented by LT Tersimus)
Rescue Swimmer
• Asa Inger Darkwatch
Honorable Mention
• Nance Monti
Medical Training Center Awards (presented by LCDR Jessica Razor)
First Responder
• Sylvia Caproni
• Mikemia Sunato
Sailing Training Center Awards (presented by LT Gabrielle Chaplin)
Event Security
• Christy Lynch
Race Security OIC
• Farryn Moon
Diving Training Center Awards (presented by CDR Octavia Rejan)
Second Class Diver
• Annya Weirman
• Deivison
First Class Diver
• David Sigueur
• Sachin De Saltu
• Sylvia Caproni
Master Diver
• Asa Inger Darkbyrd, 30-Sept-20
Rebreather Course
• Sachin De Saltu
• Sylvia Caproni
Leadership Development Institute Awards (presented by RDML Mike Rejan)
LQP1
• Keira
• Aurora Philbin
• Sami
• Willow Hamilton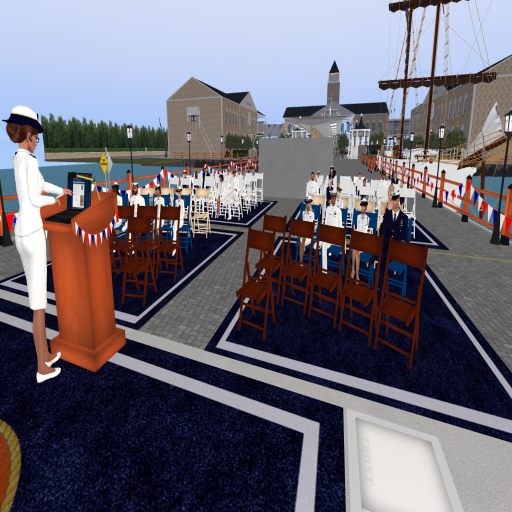 Submitted by:
PO2 Sylvia Caproni