What is the special meaning behind the Poppy Flower? I did a bit of looking and found this article on how the Poppy became the flower of remembrance.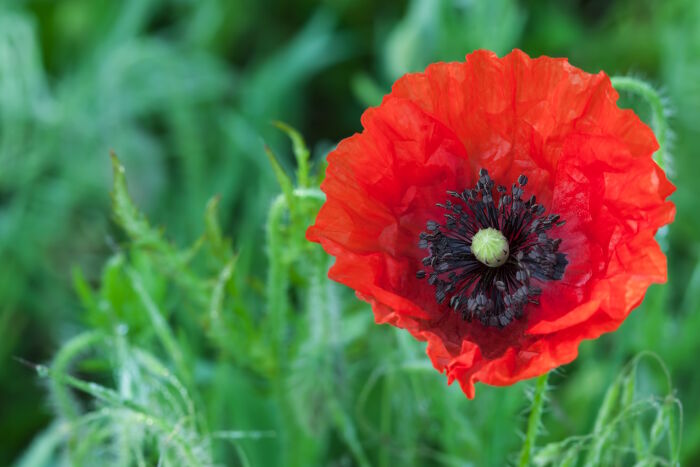 Remembrance Poppies
"Here's another war-related history lesson about the poppy flower. During World War 1, a battle took place in a place called Flanders in France. After the fighting stopped, and shallow graves held the bodies of hundreds of soldiers, red poppies began to flower in mass amounts in the freshly upturned soil.
This inspired one of the most famous poems of the era, titled "In Flanders Field." A Canadian soldier and poet wrote it in the Spring of 1915 and it quickly became the most recited poem from World War 1. The poem radiated across Canada, Europe, and the United States. Just a few years later, a woman from the US pledged to always wear a red poppy flower as a sign of remembrance for those who lost their lives during the war. Still today, some people wear a red poppy flower every year to honor fallen soldiers."
Patty Poppy, not many people may know the name, but she seems to have affected the lives around her in an incredible way. Her memorial of poppy flowers sits quietly nestled in the Station Munro as a tribute to her honoring her beautiful memory.
Who was Patty Poppy? I never had the privilege of meeting her, but after hearing about her, I wish that I had had the opportunity to do so.
The woman behind the screen of the avi Patty Poppy's name was Patricia Whitaker; you would not think that the woman was 80 years young. She had to be full of life to participate in the NAS as an acrobatic stunt flyer. On October 19, 1939, Patricia Whitaker was born and passed onto the friendly skies on May 9, 2020. The world was left with one less beautiful sky angel that day.
How did Patty Poppy become tied to the memorials at Station Munro? From the stories told, she was a great participator in the activities between Station Munro and the NAS. She really must have had a youthful heart because she created many things for both NAS and Station Munro as I understand it.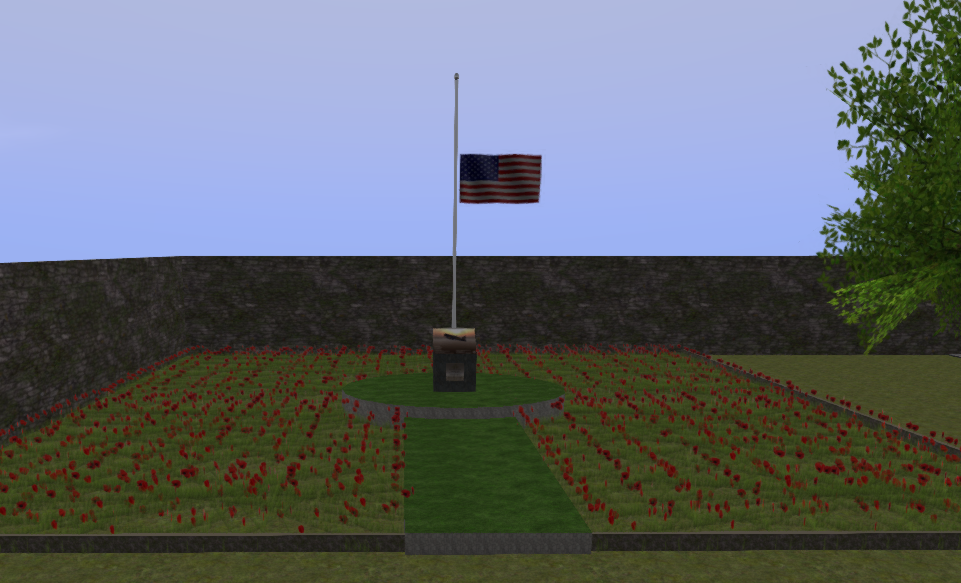 The Angels received a beautiful heart that day; I bet she is having fun, flying in her jet, and creating amazing things without limit today. Even though she left this mortal world behind and many friends, she lives on through their memories. Ask one person that knew her, and they have many good things to say about her. If you left the world today, could you leave it knowing that you made it a better place to live for others?
I was given a notecard from Captain CAVY, who was a great friend of Patty Poppy. The notecard highlights many things said about her at her memorial service. Many people loved Patty, and the NAS has a memorial tribute written to her in their magazine, which I want to include in this article. I could not reach anyone for comment at the NAS, but I hope this article does her a small tribute to the woman Patty Poppy was and remembered as today.
"The Crystal has a meaning… it is a "teardrop" because We cry Her absence…. It is a Diamond because She is now ETERNAL and forever Youth she always will live in our Hearts and Souls….
Patricia Whitaker
October 19, 1939 ~ May 9, 2020
Lieutenant Patty Poppy (autopilotpatty Poppy)
It is with a heavy heart I must inform that we lost one of our own. Lieutenant Poppy has passed and will no longer play with us. Poppy was always kind to everyone and had a special place for Captain Cavy who took her under his wing. Patty loved NAS and her friends here. She created many things for NAS at home on her computer. She tried to participate in all things NAS. Ask any one Friend or Enemy and they will have good things to say about Poppy. I first met Poppy through Colonel Quarlo Quandry. He hired her to be a dj and do a show for NAS. She did a wonderful job but i was thinking who is this goofy dj. Cavy got her to join NAS, she spent a lot of time trying to figure out how to turn on the Corsair, she never gave up. She eventually got very good at not only flying but helping us with combat as well. Patty became a great supporter of Nas by renting Auburn Bay with Cavy and building us a great place to play. Not only did she learn to fly but she earned a certificate of valor for bravery in battle. She was also a Team Member of NAS Demonstration Team (Aerobats). Her number 333 will be retired. Poppy I will miss you and your kindness. Please accept my heart with you in Heaven. Please live in out hearts during every battle and creation with NAS. We LOVE YOU and you will be missed. You will be Angel 333, Aerobat 8 always. With all our Love
Commodore Trans Sands and all of NAS.
MY ANCHOR IN A STORM LOVU1234EVER KISSES HER NOSE CAVY
It was on the 4th of July and we needed a good DJ. Jeff Sadler told me about this lady who was doing shows at Indochina and suggested I come over and see her. You did such a good job I asked you if you would like to be the DJ for the big celebration we were going to do at NAS. You accepted and said you were "thrilled and excited" about it. You really got into it — building a huge repertoire of WWII era and patriotic songs to play — and you showed up dressed as Lady Liberty! Nobody has EVER gone to the lengths you did to put on an unforgettable performance. It can't be the same without you, Poppy. But I'm grateful you passed through on your way to where you are now. I figure God must have needed a good DJ too. You are missed. Fair winds and following seas. Q
When I met you Poppy it didn't take me long to see the wonderful person in you.
I think everyone who met you had the same feeling.
We know you struggled until the end.
We're proud of you.
I hope you can hear this from where you are now.
And see how much we miss you.
Florence :-*)
May the winds be always at your back
May the Sunshine always bright and warm your face
Now, You Fly at Our Lord´s Squadron! Be Eternally Blessed
Patricia (Poppy). Anubis
Semper Fidelis, Marine. Never to be forgotten. – Tony Naharis
Poppy, you were always there when we needed you at 7th Fleet and always went out of your way to serve. Blue skies dear friend. Rest in peace. We have the watch. (Bambi)
I shall remember your smile and your kindness, your happy way of being. You are playing your songs in Heaven now and flying high in peaceful skies at last. You will always be missed, Poppy, and never forgotten.
Sadly I did not meet you enough times here in SL or when we were fighting against the IJN, but I can definitely say, that I liked the battles with you. You were in every battle a great addition to the =NAS= team and I saw it. You tried and tried and made people proud of you. I am very sorry that you left this world. I wished honestly to get in touch with you more than these times. – Victoria C. Blanc
Blue Skies and fair winds Poppy! Until we meet again! -Vickie
Today my heart is sad to hear about your departure. Today I know that you will do something beautiful. Fly alongside the angels. But I also know that today we have run out of you, that you were always our Angel. (Teobold)
The Gulf remembers you – Paul Sterrett, IJN
So sorry to hear that Poppy has passed on. Her contributions will always be appreciated and remembered. – Cellar
Ms. Poppy, I didn't know you very well personally, but you have always been spoken of fondly. In the few times we've met, you were always very friendly and sociable. On behalf of 2nd Fleet, rest in peace, shipmate. We have the watch. – RADM I. Harcassle"
http://nasmiramar.blogspot.com/2020/05/in-memoriam-patty-poppy-november-25.html
Until next time all you wonderful coasties, please remember to treat others with kindness and compassion. Love is so simple to give to others and affects people's lives in multiple ways; this is Asa Darkbyrd, your roving reporter signing off, have a fabulous day/night, whichever it may be.
PO1 Asa Darkbyrd
SLCG-3501
SL Coast Guard Magazine