Lamingtons
Prep Time: 15 mins Cook Time: 40 mins
Yield: Makes 32 lamingtons
Cuisine: Australian
Ingredients for the cake
250g butter, at room temperature, chopped
1½ cups caster sugar
4 eggs
1 tsp vanilla essence
2½ cups self-raising flour
2 tbsp cornflour
1 tsp baking powder
pinch of salt
½ cup milk
Chocolate icing
2 cups icing sugar
2 tbsp cocoa powder
90g soft butter
1 tsp vanilla essence
5 tbsp hot water
3 cups desiccated coconut
Method
1. Preheat the oven to 160°C (fan forced). Grease a large rectangular tin (31cm x 21cm x 4.5cm deep, base measurement) and line the base with baking paper, hanging over the two long sides.
2. Using an electric mixer, cream the butter and sugar until pale. Add the eggs one at a time, beating well after each addition. Beat in the vanilla essence.
3. Sift the flour, cornflour, baking powder and salt into the butter mixture, and add the milk. Fold together until evenly combined. If it seems too thick, add a little bit more milk. Spread into the tin and smooth the surface.
4. Bake for 40 minutes, until it springs back to a gentle touch in the centre (or until a skewer inserted into the middle comes out clean).
5. Turn out onto a wire rack to cool completely. When cool, cut cake into even squares. Cooling or Freezing the cake in the refridgerator/freezer will help the next step – the coating process – and it wont damage the cake.
6. For the icing, sift the icing sugar and cocoa powder into a large bowl. Add the butter and vanilla, then pour hot water, a little at a time, onto the butter to melt it. Stir until smooth and runny.
7.Place the desiccated coconut onto a plate.
8. Dip the squares into the chocolate, covering all sides, may be necessary to use two forks for easy dipping.
9. Roll the chocolate covered sponge square into the coconut covering all sides and place them on a flat tray lined with greaseproof paper.
10. Once all are done, place the tray in the refridgerator until chocolate is set.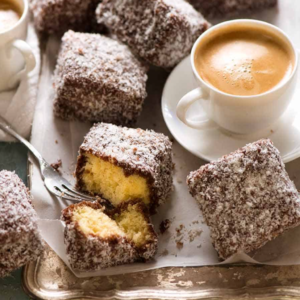 Recipe by: LTJG Yalene Hansen