Kanuchi
Kanuchi is a creamy Cherokee soup traditionally made from hickory nuts that are crushed by hand into a thick paste. That paste is then formed into large balls and stored until ready to use for this soup. Because hickory nuts aren't farmed commercially in the United States, pecans, which have a similar flavor, can be used instead.
In this recipe, adapted from one provided by Taelor Barton, we use a food processor to transform the nuts into a paste, but depending on the power of your machine and how long you allow it to process the nuts, it's possible your paste will end up too smooth and loose to form balls. This is fine, in that you can still make a delicious soup regardless of the final consistency of the paste.
Don't let the simplicity of this recipe fool you. It has very few ingredients, but once they are reduced and seasoned with salt and a touch of maple syrup, the result is a rich and nutty soup with a clean and deep flavor. Pick the garnish that appeals to you more: hominy corn, the more traditional option given it's indigenous to the Americas, or roasted sweet potatoes, a non-native option that's popular today.
Recipe Facts
Active:
30 mins
Total:
60 mins
Serves:
4 servings
Ingredients
12 ounces (340g) raw shelled hickory nuts or pecans (see note)
1 teaspoon kosher salt, plus more as needed
1 tablespoon maple syrup
1 cup cooked and drained whole or cracked hominy, or 1 large sweet potato (1 pound 6 ounces; 625g), peeled, cut into 1/2-inch dice, and roasted (see note)
Notes:
Hominy comes precooked in cans and sold dry; if dry, boil in ample water until tender, about 1 hour (though cooking time will depend on the size and type of hominy). If roasting sweet potatoes, preheat oven to 400°F (200°C). Drain sweet potatoes and transfer to medium bowl. Toss with just enough oil to coat and season with salt. Spread sweet potatoes on a rimmed baking sheet and roast, turning sweet potato pieces once or twice during cooking with a thin metal spatula, until lightly browned and tender, about 30 minutes. Set aside until ready to use.
Directions:
In a food processor, process nuts, scraping down sides once or twice during processing, until they form a thick paste, about 3 minutes. Scrape nut paste into a medium bowl.
Divide paste into 3 even portions. You only need one portion to make this recipe; you can save the rest for future batches or use it as a nut butter in other preparations. To save the extra nut paste: If the paste is thick enough to hold its shape, form the remaining portions into balls, wrap tightly in plastic and then aluminum foil, and freeze for up to 3 months; if the paste is too loose to hold its shape, transfer portions to small zipper-lock bags, press out the air, then seal and freeze for up to 3 months.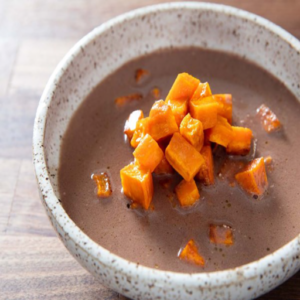 Transfer remaining portion of nut paste to a 3-quart saucepan and add 1 quart (1 liter) cold water along with the 1 teaspoon kosher salt. Set over high heat and bring to a boil, whisking to incorporate nut paste. Reduce heat to maintain a simmer and cook uncovered, stirring occasionally, until reduced by half, about 30 minutes.
Add maple syrup, then increase heat to high, allowing soup to boil until any separated fats on the surface have emulsified back into the soup. Taste, adding more salt if desired.
To serve, briefly reheat hominy or sweet potato. Ladle hot soup into bowls and garnish with hominy or sweet potato.
Make-Ahead and Storage
The soup base can be refrigerated in an airtight container for up to 1 week; reheat before serving. The extra nut paste can be tightly wrapped and frozen for up to 3 months.
RachelBloodrose