Hamburger Labskaus
Cuisine: North German
For 4 persons:
1 can of corned beef
750 g potato (s), peeled
3 pickled cucumber (s)
2 onions)
some beetroot
salt and pepper
Allspice, ground
Margarine for frying
some cucumber liquid
4 egg (s)
4 herring fillet (s), (bismarck herring or roll pug)
Boil the potatoes as boiled potatoes.
In the meantime, sauté the finely diced onions in a little fat until they are blond. Add the chopped corned beef and cook with the lid on for about 3 minutes. Then add the diced pickles with some of the cucumber stock. Season savory with salt, pepper and allspice. If desired, add a little more diced beetroot. Let everything simmer gently for about 10 minutes.
Mash the cooked potatoes a little, but not as fine as for puree! Stir in the corned beef mix. If the mixture is too firm, stir in a little more cucumber water.
Fill on plate. Serve with a fried egg and, if you like, with herring, herring or rollmops.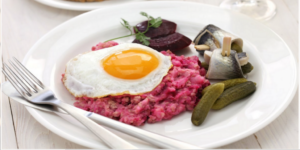 Recipe by: CPO MaikeMia Sunato