Classic Franzbroetchen
Cuisine: German
Working time approx. 30 minutes
Rest time approx. 1 hour
Cooking / baking time approx. 20 minutes
Total time approx. 1 hour 50 minutes
For the dough:
500g flour
40 g yeast
70 grams of sugar
250 ml milk, lukewarm
70 g butter
1 pinch of salt
Lemon untreated, peel grated
For the filling:
200 g butter
200 g of sugar
2 teaspoons of cinnamon
flour for rolling
Grease for the tin
For 20 Franzbrötchen.
Put the flour in a bowl, make a well in the middle and crumble the yeast into it. Sprinkle some sugar over it, pour the milk over it and dissolve the yeast in it. Spread the soft butter, remaining sugar, salt and lemon zest on the edge of the flour. From the middle, knead all the ingredients with your hands or the dough hook to form a smooth dough. Cover and let rise in a warm place until the volume has doubled, about 30-40 minutes.
Knead the dough vigorously again. Roll out into a rectangle of 30×25 cm on the floured work surface.
Cut the well-chilled butter into thin slices and place on one half of the dough. Beat the other half over it. Press the edges of the dough together and push them under the piece of dough. Roll out into a rectangle of 30 x 50 cm on the floured work surface.
From the narrow side, fold in 1/3 of the dough sheet towards the middle and fold the last third over it so that three layers of dough lie on top of each other. Chill for 15 minutes.
Then roll out the dough on the floured work surface to a size of 80 x 40 cm. Brush with water. Mix the cinnamon and sugar and sprinkle evenly on the dough. Roll up the sheet of dough from the long side into a 6 cm wide flattened roll. The seam should be at the bottom. Cut the rolling pin into 4 cm wide pieces. Press in each piece firmly with a wooden spoon handle parallel to the cut surfaces. Place on 2 greased baking trays at a distance of at least 4 cm and cover.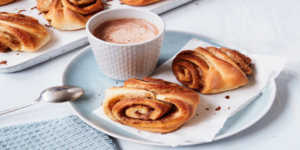 Let the Franzbrötchen rise in a warm place for 15-20 minutes on the tray that will be baked first; put the 2nd tray in a cool place so that the dough rises more slowly. Bake in the preheated oven on the middle shelf at 200 ° C top / bottom heat for approx. 15 – 25 minutes. (Every oven bakes differently, please use your own experience.)
By MaikeMia Sunato