An assembly of Munro pilots, WWII pilots and Navy airmen put on an excellent show under the sunny fall sky for an assembly of Coasties and other interested individuals. The flying was impressive, the planes loud, and the cheers even louder as the pilots expertly flew in formation for all to watch. Munro XO MCPO Adili Roge ran color commentary as follows: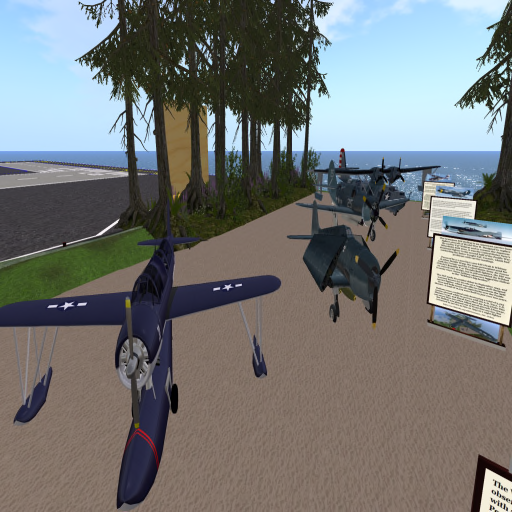 "At Station Munro, we use the PBY flying over now. She's a "flying boat" as they were called. Able to operate on sea or on land, she is currently classified as a seaplane. The PBY is used as a rescue craft, and it is able to deliver a raft to survivors."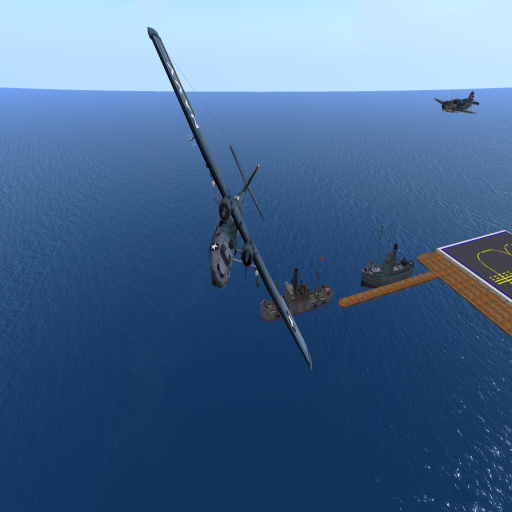 "Behind her is the Helldiver. It's a craft used to deal with our enemies on the water."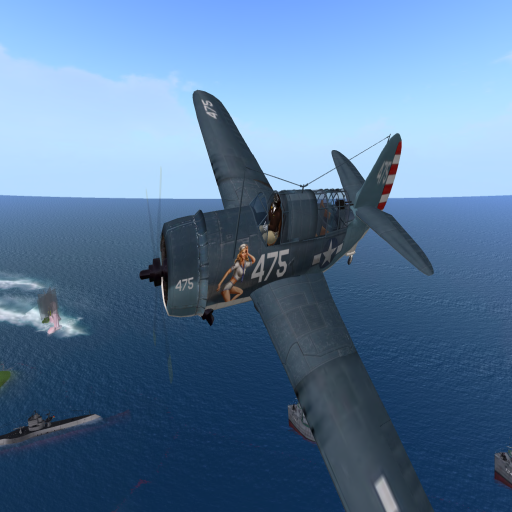 "At Munro we use the PBT, Helldiver and The Hellcat. The Hellcat is an air-to-air plane that handles our enemies in the air."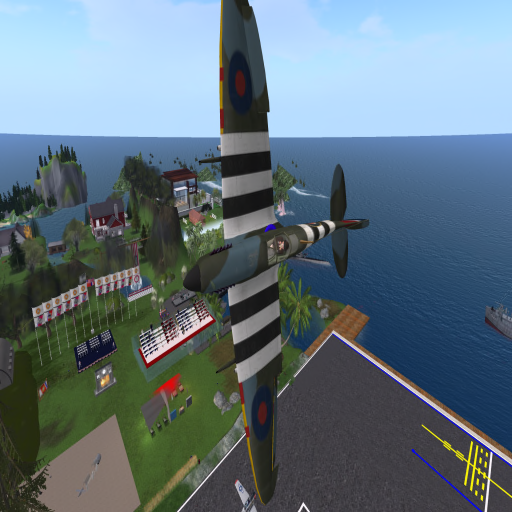 "The rest are other World War II planes of the era that we do not use at Munro but you will see in the area while on patrol in the Munro station area."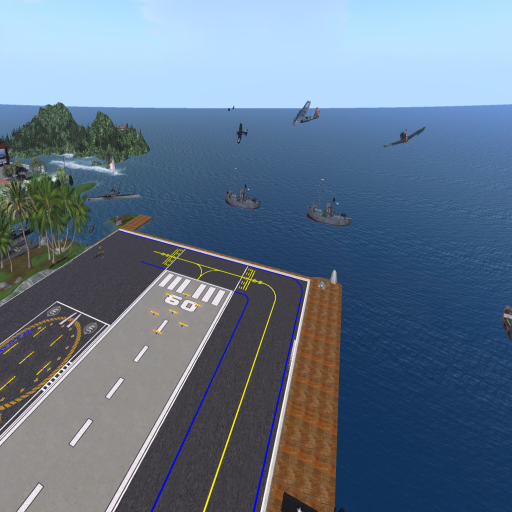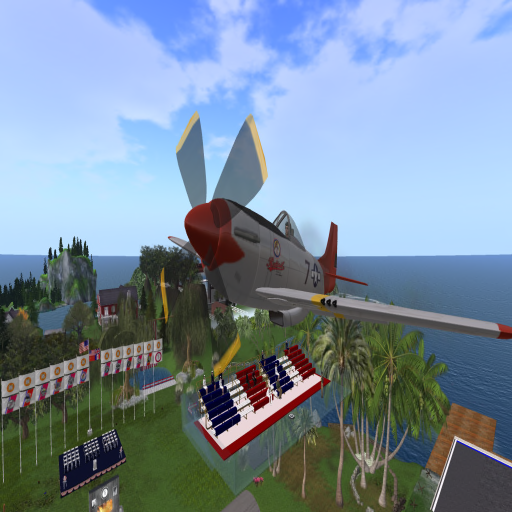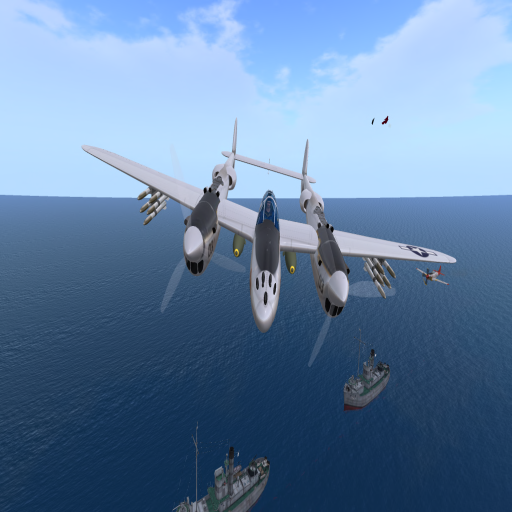 The Naval Aerobatics team put on an incredible show of flight expertise, and was well worth the wait (and nosebleed from sitting so high).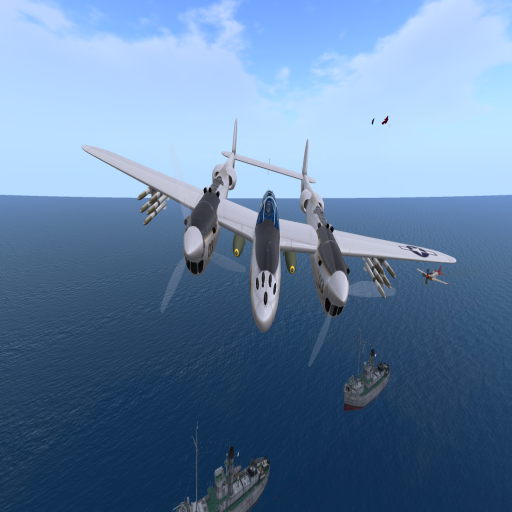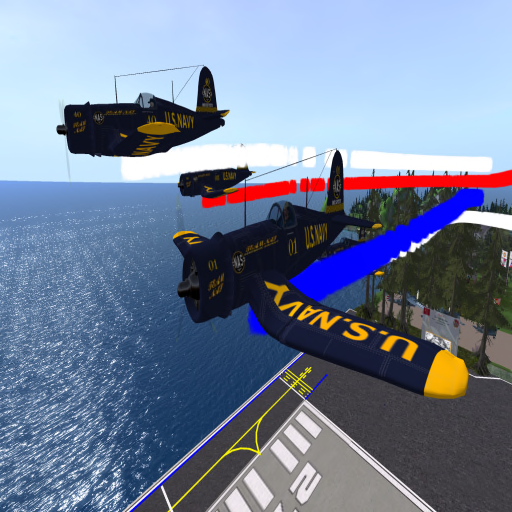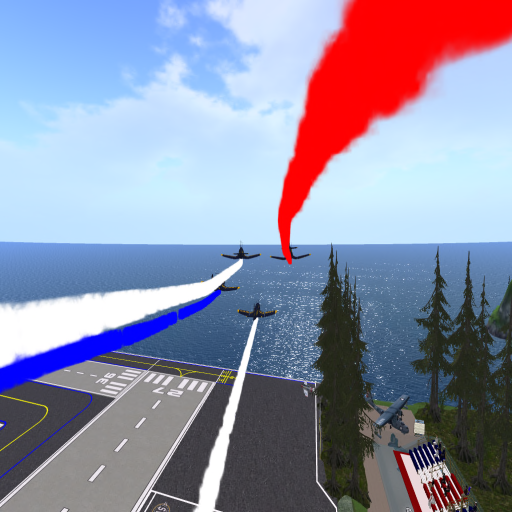 Munro's CO, SCPO Shadow McConach-Utzon
Senior staff and officers, fellow guardians, and honored guests. WELCOME, to the 10th anniversary celebration of Station Munro. It is belated, and I hope that the extra time will make it extra special. We have two special speakers this morning, CAPT Sophie Sharkfin and LT Lacie Python. First we will hear from CAPT Sharkfin, because, well, she is CAPT Sharkfin. Area Commander of all that she purveys. We would do well to heed her words, as she has many treasures to share. She is a great cheerleader of the Guardians, and a firm leader. Please, help me welcome CAPT Sharkfin to the podium.
---
CAPT Sophie Sharkfin, Area Commander, SLCG
Thank you very much SCPO Shadow, it is an honor to have the opportunity to speak at this ceremony and to recognize the 10th Anniversary of the founding of Station Munro. Hooyah!
Honored guests, Commandant, Admirals and fellow Coasties, welcome welcome. I am CAPT Sophie Sharkfin the SLCG Area Commander and I will speak briefly about the importance of honoring our past and remembering those who served. If I may step out of character a moment and address the present time — I was asked recently why I was attending a ceremony in honor of 9/11. And it had occurred to me that I had Sailors working for me who were only 18 and 19 years old, with obviously no recollection of the events that impacted so many of us on September 11th, 2001.
On that day we lost more than 2,977 innocent victims, and it was not just Americans — there were 372 other citizens from around the world. So the attack impacted the world and led to a number of changes which are too many to list here. For many of us it was visceral and it changed us, but for younger folks it is ancient history! And so I answered the question of why I was part of a 9/11 ceremony by saying that the reason we carve out some time in our busy lives to honor the victims of the attack is because if we do not, who will?
If we do not, who will?
How can we learn or anticipate the future without a command of the past?
So I felt like it was my duty to include the younger folks in our 9/11 commemorations, to teach them about what happened, and hopefully see them carry on some semblance of a tradition of remembrance.
If they don't do it someday, who will?
And I get it, it's hard to carve out a little time now and again to honor the past, to honor sacrifices — especially when you factor in a global pandemic, mass protests, economic despair, horrendous wildfires… who's got the time to honor the past anyway? That's the thing about Station Munro — here we honor the past AS A DUTY. The mission is to "Honor the Past by Serving the Present." And Station Munro does this by honoring the US Coast Guard of the Second World War.
Earlier this month on 2 September, many celebrated the 75th Anniversary of the end of the Second World War. In our own way at Station Munro, we honor the Greatest Generation whose remarkable stories of courage and selfless sacrifice led to peace and prosperity we enjoy today. Seventy-five years ago this month, the great American naval hero Admiral Chester Nimitz sent a message to the Pacific Fleet as the war ended, where he discussed our "solemn obligation" to the fallen, which was, in his words, "The obligation to ensure that their sacrifice will help to make this a better and safer world in which to live." Station Munro honors the sacrifice of many indeed to make the world a better place — we will never forget.
And if others don't do it, we certainly will.
LT Lacie Python – first XO of Station Munro, CO of NH
Thank you everyone and good morning. What an amazing thing to be here today, 10 years later. I was asked to reflect here today about my time as part of command for all of you and am excited, even though my participation with Munro of recent has been more behind the scenes.
When I joined Munro in December 2018, I understood it had a certain level of both expectations and standards that needed to be exceeded as often as possible. We are a subset of a larger group at Munro, but we are representing SLCG as a whole by what we do here. In my time as Executive Officer under the guidance of Commanding Officer Fitz Darcy, I was granted a greater privilege in that I got to work under someone who was upholding the highest standards and keeping the group as true to the original roots as it could be. It was through him that we all saw Munro under the lens we were meant to. We are fortunate to have new command now that understands the importance of keeping true to who we have always been.
Munro is something that has become a tradition in and of itself, making it a unique entity that almost has a life of its own. It is not the command that makes the station but the crew that does through the guidance of leadership. The way that everyone commits to their time here and pushes forward with new challenges is always something that can be looked at with pride. Make no mistake, the Command at Munro take on a great deal of work that has its own aviation, boat, and medical training programs within itself. There is a great deal of commitment required, and it takes everyone coming together to make all of this possible. It would not have been the success that it has been without everyone here, both past and present, who have contributed so much of their own time and effort to helping us rescue the Gulf. We have a responsibility as citizens of the world to recognize and take heed from the lessons of the past. When we ignore history, we are doomed to repeat it. Munro is a signal for all of us to take pause and look back, and honor those who made the ultimate sacrifice. I am honored to have been part of how we got to here, and I look forward to seeing the way Munro grows and changes under new leadership. Here is to 10 years of Munro, let us see 10 more!
Thank you.
Written by PO3 Sylvia Caproni