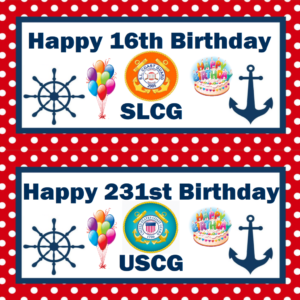 We had a wonderful day on Saturday, Aug 7th at the Birthday event at Acknefar Airport.
Many people expressed how much fun it was, and how well all the Tracens and Departments demonstrations were organized and displayed. A visual feast for the eyes and there was always something interesting to see.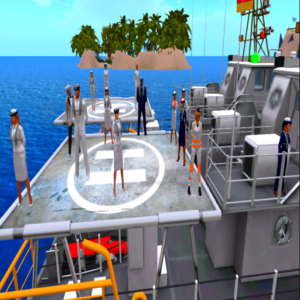 Although the day started off with a full sim causing others to have problems entering it, we quickly put plan B into action, with the help of VADM Whitfield and RADM Cukor, who came to the rescue with their cutters to allow some of us to move over to Pieve sim so others could get into the event. Once the crowd had settled into their new positions on the cutters, proceedings started quickly after that and we realized that this day was going to be special indeed, a late start but I knew there would be wonderful displays to take our minds off the delay.
Commandant Blackwell gave a very moving speech to open the event officially. She stood proud and tall as she address the crowd and her words were very profound and we all knew that they were heartfelt. As a great leader of this group, it made our hearts sing to hear such kind and meaningful words to start the event off in the right mood.

There was such great skill and precision in all the demonstrations, and our MC, LTJG Teobold Rott, did a fantastic job of describing the events as they unfolded, amongst great applause from the crowd.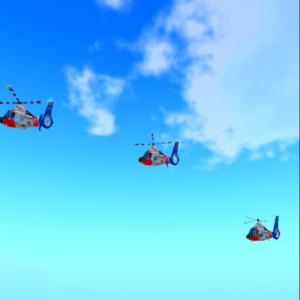 And like all things SL, we suffered a few hiccups (lag) but we didnt let that stop us from enjoying the day. LT Munsch fired up the radio and gave us some very apt tunes during the event that coincided specifically to the demonstration we were witnessing at the time.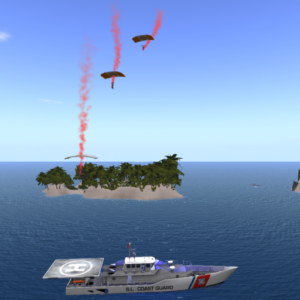 I heard many gasps of amazement when the boats and ships sailed into view, and the wonderful aerial display of the ATC had us mesmerized. The diving falcons showed great skill and I know all of us were holding our breath until we saw them land with precision on the helipad in a great display of showmanship. We all watched intently to see how SAR was going to rescue a pilot trapped in a boat underwater. With a blow by blow description from CDR Tersimus, it all became clear that this group was very skilled and knowledgeable and are always ready for action. Watching the half drowned pilot reach the rescue swimmer and making it safely onboard the waiting boat had the crowd cheering.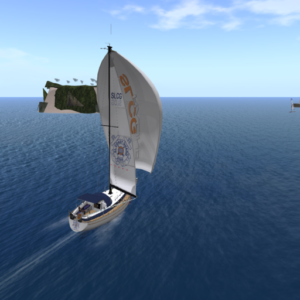 The closing of the event was a very moving one for me, as we paid respect and remembered all those that had fallen and could no longer be with us – and those remembered Coasties that contributed to our group and are still greatly missed. The Honor Guard paid a very touching homage with their 21 gun salute at the end, as the crowd stood to attention and all fell silent as the gunshots rang out.
To mark the end of such a wonderful day, LCDR Munsch showered us with a fireworks display, it lifted our spirits and was a wonderful end to the event. He continued to lift our spirits by being our DJ at the event party, we had such a great time dancing to his tunes.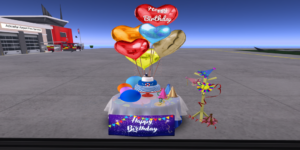 There are many many people who deserve special thanks for making this birthday event one to remember…. CDR H. Foggarty and CDR C. Foggarty, for allowing us to use their airport and disrupt their peace and quiet and for the generous prim allowance in setting up the event. All the Tracen CO's for their great display booths, all the crews and pilots who worked hard to give us such wonderful demonstrations, all the coasties that helped set up the booths and worked hard at it. And last but not least all helpers to PAO…. LTJG Teobold for his tireless efforts and his verbal skills in keeping the event running from the podium and CPO Kizzy who helped me greet people with such dignity and respect , LCDR Munsch for his radio commentary and tunes that created atmosphere during the demonstrations and LT Z.Hansen, who assisted me in cleaning up after everyone went home. She was not afraid to grab the biggest broom there 🙂
And to every Coastie, my thanks to you all, for coming to the event, for your encouragement and for enjoying the day, it meant a lot to see so many members there for support.
LT Yalene Hansen, PAO.
(Pictures supplied by CPO Kizzy, LT Z. Hansen and LT Y. Hansen.)