Since 2005, the SLCG has led and represented the safe boating education profession within Second Life. This group has over 100 members and has operating stations across the SL Grid. However, SLCG's biggest value is in the day-to-day practice of enhancing and educating the SL residents in safe boating. SLCG can provide a collection of real life material on safe boating thought out the SL Grid, at the local and national level, where safe boating professionals from all types of government and private organizations can come together with a common goal: To enhance the education of boaters in a non-adversarial environment, thus enabling them to more effectively accomplish the mission of staying alive on the water.
The strength and uniqueness of SLCG comes from its ability to provide this environment where person of a like mind can come together to discuss, analyze, and advance the state of the safe boating. During the last year, this strength of the group has been affected in some instances by the leadership and members who have failed to maintain this group Code of Conduct, Ethical & Professional standards of which I founded this organization. This group is not now, never has been nor will it ever be about the free toys that we fly, drive or patrol in. Nor is it about the uniforms that we wear.
The main mission of this group is education of the public in boating safety. This is done by handing out life jackets, educating the residents with virtual world classes as well as guiding them to the various websites that cover the boating rules and regulations for their local community in real life that will allow them to enjoy a safe boating experience in both worlds. This group may accept donations of land from various owners who are of a like mind as we are for which we build our stations, but at no time should we sacrifice our Morals, Professionalism or Code of Conduct in order to please anyone, at any time for any reason, even if this means being reduced back to a one room schoolhouse from which we started. Neither should you accept any member whom may hint at or stipulate that if this group or its members don't follow what they desire they will cause us grief or the loss of donated land. Nor should any of you ever accept any member of our group acting in any manner which condones unprofessional actions while they are in our uniform, on our vessels or wearing our group tag. By you allowing this, you are harming the long hard fought for reputation which this group has worked for and for which we have become recognized both in Second Life and also the real world.
Each of you volunteered for this group, graduated from our various schools wear the uniform and conducted the patrols. You should be very proud of what you have accomplished not only for yourself and for the group. You should not standby while others damage what you have worked so hard for. If you see something that is wrong or that you may think is wrong, report it up your chain of command. If your leadership is the issue, skip that person and proceed to the next highest person in your COC. If this is not possible, then report it to me directly. Make sure you have facts and figures. Pictures or anything that will help show your leadership what you think is wrong or should not be allowed. Give them time to investigate and if you get no feedback…then follow up with them.
No member should ever be punished for voicing your concerns over Professional, Ethical, Moral or Code of Conduct matters that have occurred while on duty or in any environment which may be construed by the public as on duty.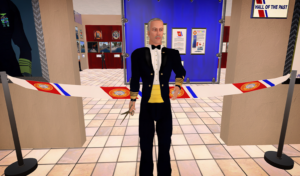 Sanstrom Laxness
Sent July 18, 2016