The fire spread quickly, smoke pluming up into the sky, hiding the sun that once shone brightly. Whirring of blades from the rescue helicopters. Rescue pilots and Rescue personnel rushing in a manner that reflects their many years of honed training skills for this time of need.
What is going on here? Why is there so much smoke billowing from the forest beyond? There was no answer given to the reason why the fires started. Still, professionally trained people rushed out to the fires burning the forest to rescue people trapped by the raging inferno.
That's where we come into the scene. Who are we, you ask? We are the medical team that waits for the helicopters to bring in the wounded for assessment and triage.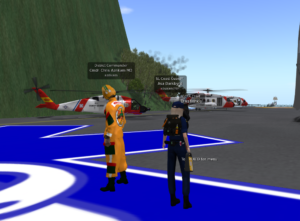 PO2 Suna Sunato
CMDR Chris Azrikam MD
PO2 Suna Sunato
It seemed like ages passed as the team watched from the ship's deck as the fires billowed wildly out of control. The fires blazed in a high heat that sent heavy ashes raining down on helicopters and blew towards the ship. Everyone responded by coughing until they put masks over their face and goggles over their eyes  to stop the smoke and soot from going into their eyes, nose, and mouth.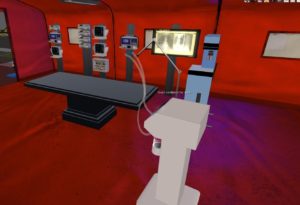 The medical crew ran back and forth, wheeling patients from the landing helicopters to be triaged below. Immediately the survivors received the utmost of urgent care at the hands of medical professionals under the guidance of CMDR Chris Azrikam MD. Unceasingly, the three medics were fierce amidst the battle of injured survivors that piled up in unrelenting and uncontrollable numbers; it almost seemed to overwhelm the small group. One person ran the survivors to the bay, one person triaged, the other person treated. One survivor after the another received the care that was required. Some inhaled so much smoke they needed immediate attention with oxygen saturation; some were dehydrated and needed IV fluids pushed stat. Another with a head injury was found to have internal bleeding and was rushed to surgery. Chaos ensued, but the hard-worn team fought back against the wave of would-be defeat until all patients were appropriately treated and released or held for observation. Luckily for us, there were no casualties, so the body bags were saved for another day.
That's how to Search and Rescue, folks; it is a hard job, but the weary toughen it out and fight until the battle is won.
Congratulations on the joint Search and Rescue operations' success, Remember folks, only you can prevent man-made forest fires.
Your battle-worn reporter, Signing off.
CPO Asa Darkbyrd
(Edited by RDML Idoru Kiyori)