Crispy Fish With Pineapple Salad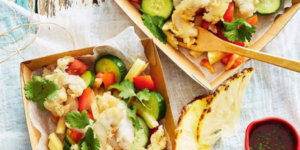 Ingredients
1 tsp baking powder
500g white fish fillets
2 ripe tomatoes, roughly chopped
1 cup loosely packed coriander leaves
1 continental cucumber, thickly sliced
1/4 pineapple, cut into 1cm sticks
1/4 cup Vietnamese salad dressing
3/4 cup rice flour
1 cup vegetable oil (for shallow frying)
Method
Cut fish into 2cm-wide strips. Whisk flour, baking powder and iced water together until smooth. Season with salt and pepper.
Heat 2cm oil in a wok over high heat. Working in 2 batches, dip fish into batter to coat. Lower into hot oil and cook for 4 minutes, turning once, or until crisp and golden. Drain on paper towel.
To make the salad, combine pineapple, tomato, cucumber and coriander in a bowl. Arrange in serving boxes and top each with fish. Serve with dressing.
Yalene Hansen