By Ken Whitfield
I'm sitting here in my comfy office watching the Prada Cup races from Auckland NZ. For those of you who may not follow sailboat racing, the Prada Cup races decide which teams will compete in the 36th America's Cup races, also being held in NZ this year. If you'd like to watch replays of the races, I'll leave a link at the end of this article.
Right now, I'm watching the first race, it's the Italian team vs. the defending champions; Emirates Team New Zealand. So far, the Italians in the LUNA ROSA, are having a hard time keeping up with the Kiwis. Sailboat racing at this level has changed drastically over the years, so much so that it doesn't resemble sailboat racing anymore.
Before I go off on a full-fledged rant, let me qualify myself. I've been around sailboats since I was a baby. My farther owned a couple sailboats and sometimes raced. I have also owned a couple sailboats and raced weekly for a few years. Now, before you start thinking I'm some sort of big wig sailboat racer, please let me explain. I raced the Wednesday afternoon barrel races in my local harbor in an 11m Hunter. That's a cruising boat, not a racing boat, but we raced it anyway. These were all fun races for bragging rights. I remember I won a hat from "North Sails" once and I thought I'd hit the jackpot. I've only ever raced for fun, and I've only done an open ocean race once, but that's another article.
So why am I so down on the America's Cup racing fleet? It's because they are not sailing, they are flying. The hulls don't touch the water for the majority of the race, these monohulls are massive, low flying airplanes.
In 1991, I was in the US Virgin Islands and I got a chance to race the Stars & Stripes, the same vessel with which Dennis Conner won the 1986 America's Cup.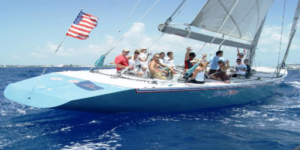 Once again, you're thinking I'm some kind of "Fancy Pants" sailboat racer, let me tell you how I got in this race. I paid to be in it. I paid $250 USD, to work as a Grinder for about 2 hours. Anybody with $250 USD can do this, no racing experience needed. My wife didn't want to work, so she handed out beers to everyone on board, it was the perfect job for her and she excelled at it. My arms just about fell off while I preformed my job as a grinder, but it was good to have my wife supplying me with beer as I tried to hide the fact that I was doing a job way beyond my physical ability.
But please notice that the beautiful 12m yacht pictured above is actually in the water, this is what makes it a boat. Today's boats fly more than they sail.
So how did we get here? Well, we have to go back a few years to the 34th Americas Cup in San Francisco USA. It was in that race that boats started to fly. Granted, they didn't fly much, but planing catamarans were allowed to enter the race. These massive 22m catamarans spent most of their time in the water, but if the skipper could get the conditions right, the boat would come up on plane and fly for short periods of time.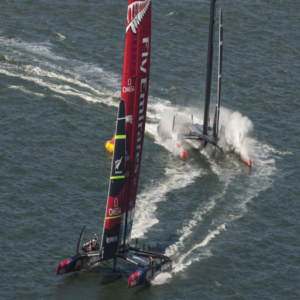 In America's Cup 35, Bermuda, the massive cats were back. The planing systems were improved and there was a lot more flying, and a greater speed. These ships could reach speeds of 35 to 40kts, this was unheard of speed, but it was a foreshadowing of things to come. There were accidents too, the cats would often nose-dive into the water and send the sailors flying. Thank God no one was badly injured or killed. I can't imagine that happening at 40kts and having a boat weighing several tons come crashing down on you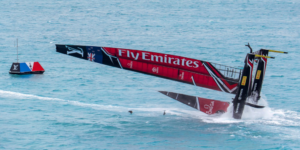 This year, America's Cup 36 is all about monohulls that look like they're out of a Batman movie. These 23m boats can reach speeds of 50kts. For those of you who don't speak nautical, that's 57mph/93kph. To give you a sense of how massive these boats are, they weigh between 7.7 to 7.8 tons. That's 15600 lbs. or 7076 kg., and they have a beam of 5m. These are the largest boats ever in America's cup racing.
So how do these boats reach speeds of 50kts? It's very simple, they don't touch the water during a race. From what I've seen so far, if the hull touches the water, it's because the captain made a mistake, or they had a technical problem. These boats are always up on plane. Even in turns, these boats rarely touch the water. It's more flying than sailing. In a normal boat, the angle of attack into the wind is about 35 degrees. With these boats, the angle of attack is 11 degrees, this puts an incredible force against the sails and mast. Speaking of sails, don't expect any changing of head sails, or use of spinnakers, that isn't going to happen. These boats have a mainsail and a head sail, and nobody is going to the bow to change sails at 50 kts.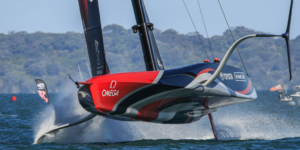 So, as much as I'm ranting about this not being sailboat racing, I have to admit, it's exciting to watch these behemoths go toe to toe. Even if they're flying more than sailing, it's still worth your time to watch the pinnacle of sailboat racing. I mentioned up front that I'd include a link so you can watch from home. Here it is. https://www.americascup.com/en/home (Click on "RACING" at the top of the screen, and then select "RELIVE" from the drop-down menu)
I hope you all enjoy, and "GO AMERICAN MAGIC" bring that cup back home to the New York Yacht Club where it belongs!! I can't wait for March 6th.
Writer: VADM Ken Whitfield
Visuals: VADM Ken Whitfield