Edith Munro, Mother, Daughter, Wife, and Sister. She was born in April 1895 in Liverpool, England, and moved to British Columbia than on to South Cle Elum, Washington. Edith Munro is the mother of Douglas Munro, who died saving the 500 Marines in the Second Battle of the Matanikau.
In turn, at the age of 48, she joined the US Coast Guard Women's Reserve unit to honor her son's memory. Could you imagine trying to join a military organization at the age of 48?
The loving mother served in service to her Country, and passed away in November of 1983 and buried beside her son with full military honors.
You can see a beautifully done memorial to LTJG Edith Munro at the Munro Station memorial area. Thank you, LTJG, for your service and your love for this Country. You and your son made it a better place for many.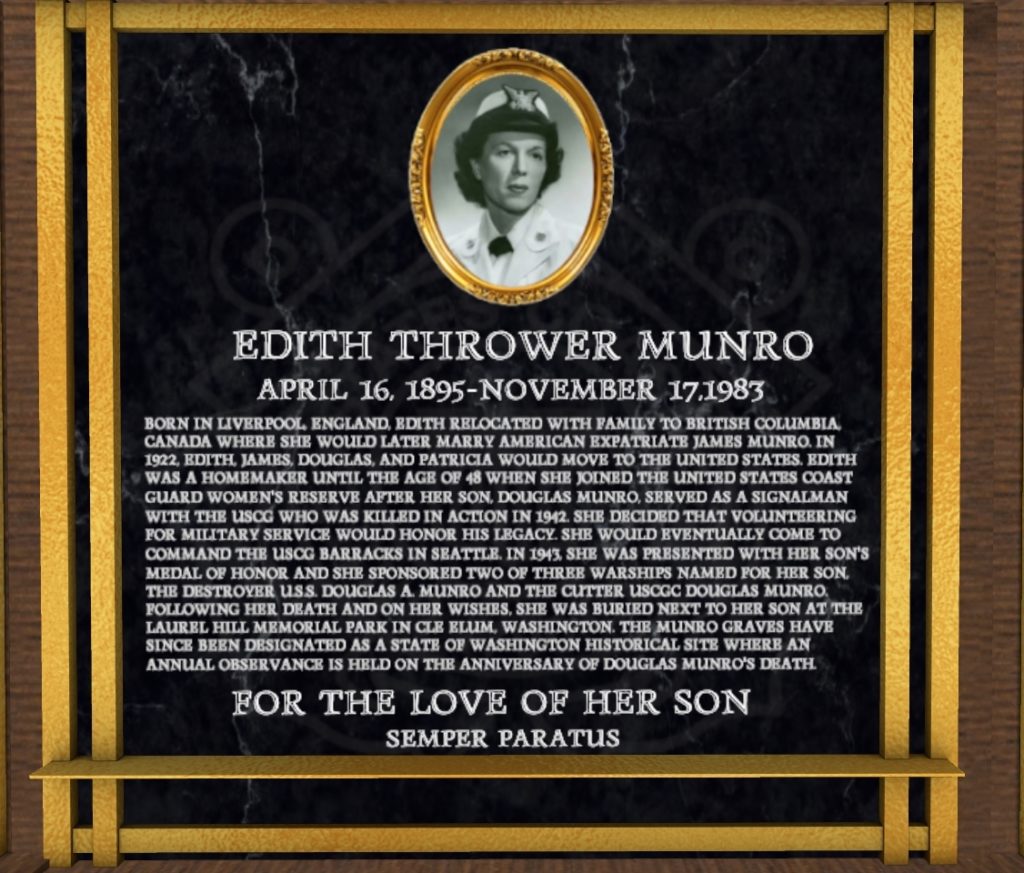 And now folks, you have the whole story, Douglas and Edith Munro, from which the Station Munro received its name. It is a sad but heartfelt story that I hope you enjoy learning. If you ever wish to see the memorial, please stop by Station Munro, then take the teleporter to the place called "The Cost of War," and there you will walk through and pay your respects to the many that died and represented there.
And as always, I hope you take time to show your family that you love them and appreciate them; until next time, this is your roving reporter, Asa Darkbyrd, signing off.
PO1 Asa Darkbyrd,
SLCG – 3501
SLCG Magazine
Assistant Editor
All references were taken from https://en.wikipedia.org/wiki/Edith_Munro#:~:text=Edith%20Thrower%20Munro%20%28n%C3%A9e%20Fairey%3B%20April%2016%2C%201895,sister%20of%20the%20Canadian%20parliamentarian%20Francis%20Fairey%20.